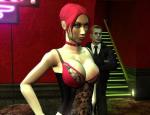 Difficile de faire plus réactif, moins de
dix jours après le dernier patch
, la communauté s'est remise au travail pour sortir le
patch
non-officiel 4.1 pour
Vampire : The Masquerade - Bloodlines
.
Quelques bugs mineurs sont corrigés dans cette petite rustine qui nécessite le
patch
officiel 1.2 installé pour que le 4.1 fonctionne.
Voici la liste des miroirs pour le téléchargement :
changelog
complet (Agnlais) se trouve dans la suite de la nouvelle.
Put morphine into cs cabinet and fixed a Danielle Persuasion error.
Added a humane farewell line to Heather and fixed a Tourette loop.
Lowered hacking skill of Asylum computers and swapped Copper lines.
Made police investigate gallery crime independent of your actions.

Prevented Humanity from reaching zero and removed loss for pendant.
Fixed parking garage exchange and removed gum when sold to Copper.
Corrected a Vandal condition and several similar dialogue problems.
Repaired broken Romero quest return and several minor text issues.