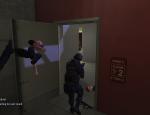 Le genre de bugs que l'on croise souvent dans le jeu
Takedown : Red Sabre
est sorti depuis quelques jours, et c'est une vraie catastrophe à tous les niveaux : graphismes ratés, IA inadmissible, options tactiques inexistantes, contenu rachitique, multijoueurs souffrant de problèmes de connexion, etc.. Trahissant une bonne partie des joueurs ayant soutenu financièrement le jeu, ainsi que ceux l'ayant acheté,
Serellan LLC
s'enferme dans une langue de bois assez insupportable comme en témoigne
cette entrevue de Christian Allen
qui fait comme si tout allait bien dans le meilleur des mondes.
Le patch sorti aujourd'hui ne corrige à peu près rien des réels problèmes des joueurs (sauf éventuellement les problèmes de connexion) qui commencent à s'indigner un peu partout, et ils ont bien raison.
Fix List:

Steam client launcher [PLAY] button will now launch a batch file that properly loads the 32bit or 64bit version of the game based on the player's Windows operating system. This should fix many connection issues.

Added Steam Server list support. To view in Steam, Click View (from the top) > Servers > CHANGE FILTERS: Takedown Red Sabre. Note: we are currently working on a subsequent patch to even further increase the accuracy of the server information shown.

Fixed certain player audio input from not being heard by enemy AI, causing unresponsiveness.
TTS (Text-To-Speech) feature has been disabled due to player abuse.