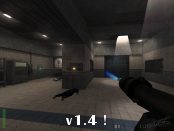 Return to Castle Wolfenstein
a droit à une nouvelle version, la 1.4, qui corrige nombre de bugs. Le fichier de mise à jour de la v1.33 à la v1.4 fait 5 Mo et la version 1.4 complète fait 11,5 Mo. Ils sont disponibles sur plusieurs miroirs. En voici une courte liste :
Soldier/lieutenant would lose all weapon functionality when dropping weapon while throwing a grenade. Can't drop weapon while holding grenade now.
Engineer would lose weapons by leaning while dropping dynamite.
Using /kill while at MG42 forced player to stay in MG42 animation mode after respawn.
Fixed buffer overflow crash caused by a long say command.
Addressed some minor flamethrower exploits.
Addressed some minor air strike exploits.
Prevented centerview exploit on sniper rifle.
Limbo chat now wraps.
Lieutenant ammo pack gives 8 colt/luger rounds.
No longer get impure client if connecting to server during map change.
Merci à
ShackNews
pour l'info.