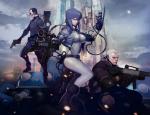 D'abord dévoilé vaguement, puis confirmé
début 2013
, le FPS multi
Ghost in the Shell : Stand Alone Complex
était resté jusqu'à présent plutôt discret, malgré l'adaptation d'une grosse licence – bien que celle-ci n'ait jamais rien donné de bien transcendantal en jeux vidéo.
Nexon
a profité du G-Star (la messe annuelle du jeu vidéo en Corée) pour dévoiler une première vidéo de
Ghost in the Shell : Stand Alone Complex
, qui a au passage écopé du sous-titre « Online First Connection », afin, sans doute, de rivaliser avec
The Chronicles of Riddick : Escape From Butcher's Bay Director's Cut
pour le podium du titre le plus long (dommage les gars, à 4 caractères près vous y étiez).
En ce qui concerne le jeu lui-même, il est assez proche de
Blacklight : Retribution
en termes de gameplay, mais avec un univers plus riche apporté sur un plateau.