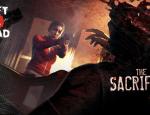 Ce DLC approfondit le background
Valve Software
a annoncé que «
The Sacrifice
», son DLC simultané pour
Left 4 Dead
et
Left 4 Dead 2
arriverait le 5 octobre prochain sur PC et console. The Sacrifice raconte la même histoire que l'expansion The Passing, mais cette fois du coté des survivants du premier casting. En plus de faire progresser le scénario, ce contenu téléchargeable incluera un nouveau style de final avec le sacrifice de l'un des quatre survivants. En plus, la campagne No Mercy arrivera sur le 2e opus.
Ce petit
add-on
sera gratuit sur PC et à 560 points sur Xbox 360.
Le communiqué complet de l'annonce se trouve dans la suite de la nouvelle.
suite

»
Latest DLC Coming to Both L4D1 & L4D2

September 27, 2010 - Valve, creators of best-selling game franchises (such as Half-Life, Portal, Team Fortress, and Counter-Strike) and leading technologies (such as Steam and Source), today announced the new add-on for its co-operative zombie thrillers -- "The Sacrifice," in development for both Left 4 Dead (L4D) and Left 4 Dead 2 (L4D2) -- is due for release on October 5, 2010.

"The Sacrifice" is the prequel to "The Passing," and takes place from the L4D Survivors' perspective as they make their way South. In addition to advancing the story, "The Sacrifice" introduces a new style finale featuring "Sacrificial Gameplay" where players get to decide who will give their life so the others may live.

The Sacrifice DLC for L4D1 is a seperate download than The Sacrifice for L4D2.

In The Sacrifice for Left 4 Dead 1 gamers receive the complete Sacrifice campaign with maps playable in Campaign, Versus, and Survival.

In The Sacrifice for Left 4 Dead 2 owners receive "The Sacrifice" campaign playable with the Left 4 Dead Survivors. In addition, those with Left 4 Dead 2 receive L4D's "No Mercy" campaign. Both campaigns are playable in Campaign, Versus, Survival, and Scavenge modes and both will feature the Left 4 Dead 2 Special Infected, items, and weapons. Yes, Zoey with a chainsaw!

Targeted for release on October 5th, "The Sacrifice" will be available for download on Xbox Live for 560 Microsoft Points and free to all PC gamers.

For more information, please visit www.l4d.com
[!] Commentaires fermés pour cette nouvelle.