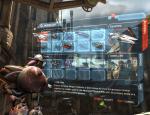 Lors de son évènement de présentation de l'
Unreal Engine 3
,
Epic Games
a annoncé que Scaleform GFx sera désormais vendu avec tout achat de licence — il était jusqu'à présent optionnel et vendu séparément.
Epic
a aussi annoncé que la technologie serait utilisée dans
Gears of War 3
. Pour rappel, cette technologie permet de créer facilement des interfaces (UI) et des menus dans les jeux. C'est elle qui a servi à créer ceux de
Borderlands
,
Crysis
,
F.E.A.R. 2 : Project Origin
et plus
de 600 jeux
. Une bonne nouvelle pour les développeurs donc.
Le communiqué complet se trouve dans la suite de la nouvelle.
CARY, NC and GREENBELT, MD – April 15, 2010 – Epic Games, Inc., developers of the industry-leading Unreal Engine, and Scaleform® Corporation (Scaleform), the leading provider of Flash®-based middleware and user interface (UI) solutions for the video game and consumer electronic industries, today announced that Scaleform GFx will be bundled free of any additional charges with all current and future versions of Unreal Engine 3. In addition, Epic Games will use Scaleform's technology to speed the design of innovative UIs for its own highly anticipated titles, including Gears of War 3.

Scaleform GFx has long been integrated with the award-winning Unreal Engine, although both middleware technologies were previously sold separately. The new partnership between Epic Games and Scaleform will ensure that all versions of Unreal Engine 3 will include Scaleform GFx and its many groundbreaking features without any additional work or licensing fees. The partnership will also ensure that fans of Epic Games' titles will experience the latest in immersive UI design, including Scaleform's new 3Di rendering and stereoscopic 3D interfaces, high performance heads-up displays (HUDs) and richly animated menus.

"At Epic, we pride ourselves on delivering best-of-breed graphics, performance, and an unrivaled toolset with our Unreal Engine," said Tim Sweeney, CEO of Epic Games and chief architect of the Unreal Engine. "Scaleform GFx is the clear leader in user interface design for casual and triple-A games alike with its unmatched versatility, performance enhancing features and new 3Di technology, making it a 'must-have' for our upcoming titles, and a tremendous added value for all Unreal licensees. We've also been long time admirers of the Scaleform team and the superior technology that they've been providing to game developers for many years, and even more impressed with their upcoming roadmap of feature improvements. We're thrilled to have GFx bundled with the Unreal Engine for many years to come."

"We're extremely excited that Epic Games has chosen to bundle our technology in their industry-leading game engine and use GFx to enhance their award-winning game franchises," said Brendan Iribe, co-founder, president and CEO of Scaleform. "Epic is an innovator in game design and 3D engine middleware technology. Their long-term confidence in Scaleform GFx is a strong endorsement of our proven track record, increasing ubiquity, and overall leadership in the game market."

"Making Unreal Engine 3 a complete out-of-the-box solution for all developers is one of our core goals," said Mark Rein, vice president of Epic Games. "It quickly became evident that Scaleform GFx is far and away the best UI solution in the market and will remain without equal for years to come. Providing GFx as a fully integrated and standard component of the Unreal Engine is another example of how Epic continues to invest and improve our technology for all of our licensees."

Scaleform GFx will continue to be available as a standalone UI solution that supports other middleware technologies on the market.