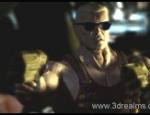 Scott Maclean,
level designer
chez
3D Realms
tente de nous rassurer dans un message rapporté par
Duke4Net
que le développement de
Duke Nukem Forever
suit son cours. Néanmoins, la première phrase de son message n'est pas forcément très rassurante «
Six mois depuis ma dernière mise à jours. Pas grand chose n'a changé
», une personne mal intentionnée pourrait d'ailleurs penser qu'ils n'ont rien foutu depuis six mois, mais je ne fais pas partie de ce genre de personnes...
Scott Maclean : Six months since I updated. Not much has changed - everything is still going well. Things at work continue to make me jazzed to get up in the morning. Our team is just top-notch. I've been enjoying working on the levels I've been assigned, and everybody is responding well to the work I'm doing. In addition, the other designers continue to pump out work that just blows my mind. I'm really looking forward to the day when we can start showing off what we've been doing.