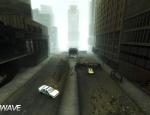 Les développeurs courageux d'
InterWave Studios
continuent de sortir des mises à jours pour
Nuclear Dawn
, leur FPS/RTS sorti en 2011. La dernière en date, estampillée 6.9.1, corrige quelques bus plutôt mineurs. Il faut dire que la dernière en date sortie au mois de décembre dernier avait été plutôt massive avec l'ajout d'un système d'XP pour les joueurs.
La liste complète des changements se trouve dans la suite de la nouvelle. Quant à la mise à jour, elle sera téléchargée automatiquement au prochain lancement du titre.
- Fixed issue causing all players to be one rank higher than they should be.
- Fixed Advanced Kits not being selectable in UI when only unlocked via player upgrades.
- Player upgrades panel now caps available points displayed at number of upgrades available.
- Fixed some player upgrades triggering others to unlock.
- Added missing files causing player upgrade notification to not display.
- Severely reduced delay in round xp updates.
- Fixed Hammer startup issue.