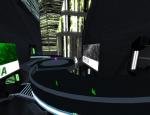 Après un mois de travail, la
Warsow Team
vient d'annoncer la sortie de la version 0.42 de leur FPS gratuit et multijoueur. Au menu de cette nouvelle version, la correction de nombreux
bugs
, notamment pour la
Warsow TV
. Cette mise à jour est essentiellement concentrée sur le cœur du jeu, c'est à dire le code même. Il n'y a donc ni nouvelles cartes, ni nouveaux
models
.
Le téléchargement (175.5 Mo) peut s'effectuer sur l'un des miroirs suivants :
le site officiel
.
La liste complète des changements (en anglais) se trouve dans la suite de la nouvelle.
Full Changelog:

New Features :
• Added game operator functionality:
• Game operators are players with elevated status who have increased power over the server, but do not have rcon access.
• Servers admins set an operator password with "g_operator_password".
• Players authenticate themselves as an operator using "operator " or "op ".
• added opcall command, which allows game operators to call votes which
instantly pass.
• Added two new chat filtering commands - cg_chatFilter and cg_chatFilterTV - for filtering chat messages in normal games and when spectating tv matches respectively. These two commands accept the following bitmask values:
• "0" enables all messages
• "1" filters global chat
• "2" filters team chat
• "4" filters TV spectator chat
• added seek and pause functionality to demo menu.
• added demo playback capability to wswtv.

Changes :
• Changed network protocol to improve serverside culling of projectiles and playback of single-pov demos in wswtv. These changes are backwards-compatible.
• Changed wswtv chat color to white.
• Modified ip filters, they now stick around between maps.

Fixes :
• Fixed unreasonably large challengers queue delays.
• Fixed servers not providing version info due to long hostnames.
• Fixed clan arena coaches being dropped into spectator mode.
• Fixed several issues with ip filtering.
• Fixed several crash bugs and memory leaks in wswtv.
• Fixed graphical glitches when demojumping backwards.
• Fixed minor gfx menu bug.

NOTE : The updated SDK is not included in the release at the moment. It will be released later.