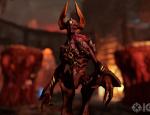 Le premier DLC pour
DOOM (2016)
est arrivé. Il fait la grande part au multijoueur et ne propose aucun contenu pour le solo. Dans le détail, nous avons :
Three new multiplayer maps: Offering, Cataclysm and Ritual
-A new player-controlled demon: Harvester
-A new weapon: UAC EMG Pistol
-New equipment: Kinetic Mine
-New ways to customize your DOOM Marine, including additional armor sets, patterns, colors and taunts
-New hack modules
On vous en demandera quand même 15 euros
via Steam
. Pour rappel, le DLC de RAGE proposait une campagne solo entière pour 5 euros.