19 avril 2014, 12h42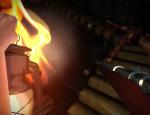 Vous l'attendiez tous avec impatience, mais ça y est,
Overcast : Walden and the Werewolf
est enfin disponible ! Après s'être fait
greenlighter
le 3 avril dernier, c'est tout naturellement qu'
il est arrivé hier sur Steam
, pour un peu moins de 10€. Et si vous achetez le jeu avant le 25 avril, vous pourrez profiter d'une réduction de 10%.
Pour ce qui est du jeu, il s'agit d'un FPS horrifique dans lequel vous incarnez un chasseur appelé Walden qui va se venger d'un monstre avec une lanterne dans la main gauche et un fusil dans la main droite.