16 avril 2014, 08h44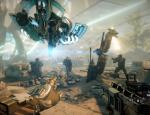 La prochaine mise à jour de
Killzone : Shadow Fall
vous permettra de jouer au tout nouveau mode :
King of the Hill
sur PS4. Ici vous devrez capturer des points du zone sur toute la map afin d'avoir le contrôle du territoire. Ce mode, accessible sur toutes les maps, a été conçu en fonction des exigences de la communauté : 16 joueurs (maximum) s'affrontent pendant 15 min, le temps de
respawn
est considérablement réduit et les points nécessaires pour capturer les emplacements sont passés de 100 à 250. A noter que tous les packs de maps de
Killzone : Shadow Fall
peuvent être téléchargés gratuitement.