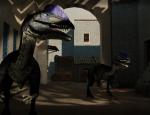 Dino D-Day
, le FPS multi tout pourri avec des nazis et des dinosaures vient de se voir patché sur Steam. Cette rustine apporte au passage du nouvelle carte sur un thème hivernal, baptisée «
Snowy Park
», et corrige de nombreux bugs.
Le jeu sera patché automatiquement au prochain lancement.
La liste complète des changements se trouve dans la suite de la nouvelle.
• New winter map "Snowy Park".
• Full stat-tracking integrated with Steam.
• Game UI overhaul.
• Fixed several server crash errors.
• Fixed a few instances where view models would disappear while deploying.
• Added significant optimization improvements, particularly for those with low-end systems.
• Added a press-to-hold ironsights feature.
• Fixed goat related bug.
• Fixed client crash related to MG42 posts.