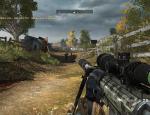 Kaos Studio
et
Digital Extremes
viennent de publier un
patch
pour la version PC d'
HomeFront
. Les changements sont plutôt mineurs et concernent exclusivement le mode multi avec des corrections au niveau du
server browser
. Le patch sera effectif via Steam au prochain lancement du jeu.
En marge de cette publication, le développeur annonce travailler sur des bonnes choses actuellement en phase de test et qui devraient arriver dans une prochaine mise à jour : un mode
hardcore
, d'avantage d'options pour les admin de serveurs et enfin plus de fonctionnalités anti-cheat.
La liste complète des changements se trouve dans la suite de la nouvelle.
Homefront

* Improved quickmatch logic, players will now join populated servers.
* Improved ping queries on servers, player count, gametag info and general server info.
* Limited number of concurrent ping and rules queries, this prevents issues associated with query spam (disconnects on certain ISP's and network hardware).
* The friends list will now display all friends that are in dedicated server games.
* The player list will populate when using the server info option.


The patch is now available on Steam and will be downloaded the next time you start Homefront. Additionally, here are a few of the items that are currently in testing for future patches: hardcore mode, more player admin options (votekick/voteban/voterestart/votenextmap), and additional anti-cheat functionality.