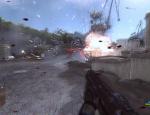 Les européens, pour une fois, ne seront pas délaissés en ce qui concerne les jeux vidéo, puisque nous venons d'apprendre que
Crysis
sera présent à la
Games Convention
de Leipzig (Allemagne), qui aura lieu du 21 au 24 août. En même temps, les frais des déplacements pour
Crytek
n'en seront que plus faibles.
Plus précisément, pour ceux qui se demandent en quoi cette annonce est importante, il faut noter que
Crysis
sera présenté dans le cadre de la séquence
Video Games Live
, qui met en scène un jeu joué en temps réel, le tout poussé par un orchestre et tout un tas d'arrangements sonores, dans le but de faire ressentir aux spectateurs un maximum de sensations.
Le communiqué de presse officiel (anglais) se trouve dans la suite de la nouvelle.
Aug 08, 2008
For the first time in it's history, on August 20th 2008, the Games Convention in Leipzig will host the VGL, an immersive concert event featuring music from the most popular video games of all time. Top orchestras & choirs perform along with exclusive video footage and musical arrangements, synchronized lighting, solo performers, electronic percussionists, live action and unique interactive segments to create an explosive entertainment experience!As a part of the show, Crytek's multiple Award winning Blockbuster "Crysis" and it's most powerful tracks from the modern cinematic OST composed by Inon Zur, will be featured for the first time supported by exclusive video footage. The performance will be held in the Leipzig Arena in front of a 7000 seats audience of all age.

About Crytek GmbH
Crytek GmbH ("Crytek") creators of the multi-award winning first person shooter Far Cry®, and the recent blockbuster hit Crysis®, awarded best PC Game of both E3 2007 and the 2007 Leipzig Games Convention, and awarded Best Technology at the 2008 Game Developers Choice Awards, is an interactive entertainment development company with its headquarters located in Frankfurt Main, Germany and additional studios in Kiev (Ukraine), Budapest (Hungary) and Sofia (Bulgaria). Crytek is dedicated to creating exceptionally high quality video games for the PC and next-generation consoles, powered by their proprietary cutting edge 3D-Game-Technology CryENGINE®2.