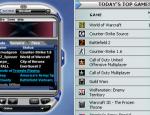 La nouvelle version du célèbre logiciel de messagerie directe et de jeu en ligne
Xfire
vient tout juste de sortir. Je suis tellement en exclusivité que même le site officiel ne l'a pas encore écrit en page d'accueil ! Pour ceux qui ne connaissent pas ce logiciel, Xfire décèle les amis en ligne, les jeux et les serveurs auxquels ils participent (un mélange de MSN et de GameSpy). Téléchargez Xfire
ici
.
Voici les mises à jour proposées par cette nouvelle version (disponible en anglais uniquement) :
-Added the ability to invite more people in a chat window; one-to-one chats are automatically converted to group chats when you do this.
-Fixed Friends' Favorites in the Servers tab; they now work well.
-Your current upload/download rates are now displayed in the tray tooltip.
-Added a "message of the day" to group chats.
-Added the ability to set the default user permissions in a group chat.
-Added the ability to create a game lobby for Age of Wonders: Shadow Magic in a group chat.
-Updated language translations for all 12 languages.
-Fixed an ephemeral issue with changing nicknames.
-Revamped the files tab internals for future projects.
-Added a white background to the icon so that it looks good on any type of background.
-Changed the icon for the main window to differentiate it from chat windows when you Alt-Tab.
-Improved behavior of silent installations to include a desktop shortcut.
-Changed installer to prevent installations in special Windows directories.
-Numerous other small bug fixes.
-New games supported: Silent Hill 2, Prince of Persia The Two -Thrones, WarRock, X3 - The Reunion, Stubbs the Zombie, Pro Evolution Soccer 5, Football Manager 2006, Star Trek Bridge Commander, Advent Rising, UFO Aftershock, NavyField, Rubies of Evantide, and FIFA Manager 06.