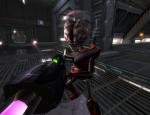 La 7.53 est là
COR Entertainment LLC
, les développeurs amateurs derrière
Alien Arena
, le FPS gratuit qui n'en finit pas d'accumuler les mises à jour, viennent à nouveau de patcher leur jeu.
Les corrections concernent principalement les améliorations visuelles apportées au vieillissant
id Tech 2 (Quake II Engine)
qui fait tourner le jeu.
Le téléchargement du jeu complet (327 Mo) peut s'effectuer sur
Atomic Gamer
ou l'un des miroirs du
site officiel
.
La liste complète des changements se trouve dans la suite de la nouvelle.
Major 7.53 features:

1. Extended use of VBO for signifigant performance increases on high settings.
2. A number of bot AI changes to improve navigation, combat and more human like behavior.
3. Added a number of video resolutions.
4. "Dm Lights" server option.
5. Menu changes to make things behave more consistently and intuitively.
6. When entering join server menu, servers only refreshed on first entry, unless refresh button is pressed.
7. Entity def files to allow maps to have multiple game types and configurations.
8. Chaingun behavior smoothed out.
9. Grass/vegetation rendering visually improved, and optimized.
10. CTF scoring improvements.
11. Smarter precaching.
12. Speed hack detection improvements.
13. Fixed account bugs.
14. Optimizations for IQM and MD2 rendering.
15. Stats math refactoring.
16. New maps - TCA-Invasion, CTF-Zion2k9
17. New violator sounds, skin, and effects.
18. Added "ultra" skill level to single player mode.
19. Added sun object control to scripts.