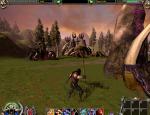 S2 Games
vient de sortir un
patch
pour
Savage 2 : A Tortured Soul
faisant ainsi passer le jeu en version 1.8.0. Les — nombreux — changements concernent l'interface (et notamment un nouveau server browser), les commandes vocales, les chefs de squad et l'interface de gestion des clans. On notera aussi l'équilibrage de certaines classes.
Le jeu se patchera automatiquement au prochain démarrage.
La liste complète des changements se trouve dans la suite de la nouvelle.
Version 1.8.0
-------------

*** We strongly recommend removing any installed interface mods before applying this patch. The authors of such mods will need to need to evaluate the changes in this patch and make updates as necessary.

Interface:
- New server browser
* Quick connect button - connect to a populated server with the best possible ping. Will fall back to an empty server if all populated servers are full. Checkbox for official servers only or all servers.
* View persistent item vault items from the server browser.
* Various improvements, more information, and clarification of interface elements.

CC Panel improvements (Thanks, Stanz!):
- Fixed a bug where menu items sometimes couldn't be clicked on.
- Fixed a bug where toggled buttons would reset when the overlay was closed via the X button. (From 1.7.9)
- Modified the clan chat window so it should now properly retain all messages.
- Server list now sorts by ping (lowest to highest) by default.
- Added a resize button to title bars.
- Added a list of whisper contacts to the message window.
- Added clan chat button to the clan panel.
- Added new misc tab to options.
* Added new option: "Always open chat windows" - this will create chat windows whenever you receive a whisper.
* Added new option: "Bar at Bottom" - this will move the CC bar to the bottom.
- Misc. additional improvements

Voice commands and Notifications:
- Completely new set of voice commands and audio notifications.
* Roles are as follows: human commander, human announcer (notifications), human action player, beast commander (Ophelia), beast announcer (notifications), beast action player.
* Added specific structure under attack notifications.
* Full set of commander-specific voice commands.
* Squad-member-specific and squad-officer-specific voice command menus (will only show the appropriate menu).
* New "Your skill is unmatched!" kill streak notification at 15 kills.
* Team and enemy team upkeep unmet notification sounds.
* New stronghold/lair damage notifications - (Heavy damage at 60%, burning/fading at 35%, nearly destroyed at 15%, and victory/defeat at 0%).

Squad Officer:
- Squad officer orders (opened by pressing 'F') now uses action player sound set - can now tell the difference between officer and commander orders.
- Squad officer follow order modified to "Defend target" - can be used to issue defend unit and defend building orders.
- Rally command reworked - has new audio notification and issues a move order to the officer. Can be used as an officer flag.

Balance:

Hunter:
- Wingspin duration reduced to 3 seconds from 6 seconds.
- Wingspin cooldown time lowered to 20 seconds from 30 seconds.
- Wingspin block meter damage increased from 19 per hit to 25 per hit. Three strikes from a wing spin should fully break a player's block meter.

Shaman:
- Chant of Restoration now uses about 29% less mana.

Misc:
- Fixed several outdated ability descriptions.