21 décembre 2007, 13h44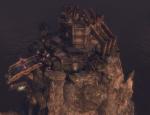 Mark Rein
est très fier d'annoncer
sur les forums officiels
d'
Epic Games
la mise à disposition de DM-Shrine pour les utilisateurs de la version PS3 d'
Unreal Tournament III
. C'est pour l'instant une première dans l'industrie vidéoludique qui est bénéfique autant aux joueurs consoles qu'aux créateurs de contenu sur PC. Ces derniers voient de cette manière une certaine reconnaissance de leur travail, à l'image de Thomas "Setheran" Browett, l'auteur de cette carte.
Aujourd'hui est donc un grand jour, puisqu'il inaugure cette nouvelle façon de diffuser du contenu créé par la communauté.
Mark Rein
insiste d'ailleurs sur ce point et rajoute même que ce téléchargement n'est pas isolé puisqu'il devrait être suivis dès demain d'un
mutator
, de quelques cartes et d'un nouveau mode de jeu.
La procédure à suivre pour télécharger cette carte se trouve dans la suite de la nouvelle.
Here is how to install UT3 mods on your PlayStation 3.

1. Unzip the file to the root directory of any memory card that is readable by your PlayStation 3. It is already in the proper directory structure but, just in case, the path and filename need to be: ps3\savedata\blus30086-modimport\userdata.jam

2. Boot up Unreal Tournament 3 on your PS3

3. Go to the "Community" menu

4. Choose "My Content"

5. Press the [SQUARE] button to "Import Mod"

6. Follow the directions on the screen to import it from your memory card.

Once imported you'll be able to see the map in your list of Deathmatch maps. You'll be able to host the map and join servers that are hosting the map. All UT3 mods install this same way. If this were a mutator it would show up in the mutator list. If it were a gametype it would show up in gametype lists, etc.

This is just the first little taste of modding on Unreal Tournament 3 for PS3.