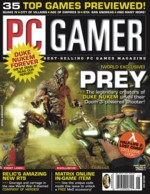 On s'en doutait un peu depuis quelques jours, mais cette fois c'est sûr : Prey arrivera (cette fois on l'espère, du moins) ! Ce sont les développeurs de ce FPS,
Human Head Studio
qui ont officialisé le jeu aujourd'hui.
Ce FPS qui était sorti de la tête des développeurs de chez
3D Realms
deux ans avant le projet Duke Nukem Forever refait donc surface après des années de silence, utilisera le
DOOM3 Engine
(Oh les belles mains de la bêbête !), sera présenté à l'E3 au stand d'ATI, et est prévu pour 2006 sur PC et consoles Next-Gen.
New York, NY – April 26, 2005 – 2K Games, a publishing label of Take-Two Interactive Software, Inc. (NASDAQ: TTWO), and 3D Realms today announced Prey, a revolutionary first person shooter for PC and a next-generation console system in development at Human Head Studios, under the direct supervision of 3D Realms.

"The initial concept for Prey had been incubating for a while, waiting for the right opportunity to come along," said George Broussard, President of 3D Realms. "We jumped at the chance to create this game with a talented developer like Human Head Studios and next-generation technology like the Doom 3 engine."

Scott Miller, CEO of 3D Realms, added, "Prey is special for many reasons, including several new and original gameplay features and a tightly integrated story that packs an emotional punch, unlike other first person shooters."

"Our collaboration with 3D Realms has been enormously rewarding," added Timothy Gerritsen, CEO of Human Head Studios. "With their help, Prey is sure to breathe new life into the first person shooter genre with a compelling story, innovative gameplay mechanics and dazzling imagery, which is powered by our significantly enhanced version of id Software's original Doom 3 engine."

Prey will be exclusively showcased at this year's E3 Expo by ATI in a movie theater-style exhibition. For the world exclusive first details on the game, look for PC Gamer's June issue featuring Prey as its cover story, arriving on newsstands in early May. Prey is currently scheduled for a 2006 release.