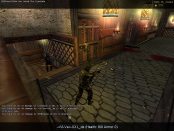 La
première version
de
Public Enemy
, un mod pour
Half-Life
est enfin disponible.
PE takes part in a dark future - which we know from books, cartoons, movies and games like BladeRunner, ShadowRun, Cyperpunk, Syndicate (Wars) or Deus Ex. It is not a high-technology world like Star Wars, Star Trek or other movies or series which have already colonized whole worlds; it is not a science-fiction typically. It is more a neorealist, dark world
L'histoire se déroule en 2040 alors que le monde est gouverné par de puissantes sociétés avides de pouvoir. C'est ainsi qu'elles établissent leurs lois et font ce qu'elles veulent. De nombreuses guerres civils éclatent menaçant la survie de l'homme.
Voici une liste de miroirs :