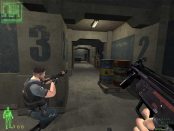 Dans un premier temps, on apprend que de nouvelles mises à jour sont disponibles. Les mises à jour concernent la version 1.4 Europèenne du jeu. Voici une liste de miroirs :
Project Three Interactive
, nous informe sur le fait que le jeu devrait être "GOLD" aux Etas Unis vers le 18 mars 2003.
Puis toujours dans les mêmes propos, une démo devrait voir le jour dans quelques jours.
The demo will feature the Druglord Villa level which was in the E.U. release plus a completely new map called Restaurant. Both maps will be in the U.S. release, while E.U. players will have the opportunity to add the map to their full game by a separate download. The Demo will have both singleplayer and multiplayer modes included.