Évènement : Electronic Entertainment Expo (E3) 2013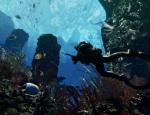 Comme prévu,
Activision
a tenu une conférence de presse, à l'occasion du salon de l'E3, afin de présenter
Call of Duty : Ghosts
. Vous pouvez revoir cette conférence en intégralité à partir de la première vidéo. Ou uniquement les séquences de gameplay avec les autres bandes-annonces. La première nous présente une séquence sous-marine, la deuxième milite pour la brigade cynophile. Et la dernière nous montre le jeu tournant sur un immense écran panoramique.
La sortie de Call of Duty Ghosts est prévue pour le 5 novembre prochain, sur à peu près tous les supports.