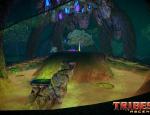 Quelques jours à peine après le patch Tartarus,
Hi-Rez Studios
vient de sortir un nouveau patch intitulé «
Staying Alive
» pour
Tribes : Ascend
, faisant ainsi passer le jeu en version 1.0.980.1. Avec cette mise à jour, les développeurs ajoutent 3 armes pour la Brute (Gladiator, Plasma Cannon, Survival Pack).
Vous trouverez dans la suite de la nouvelle une vidéo de présentation de cette mise à jour et la liste complète des changements.

Post May 22, 2012: Tribes Ascend Version 1.0.980.1
Tribes Ascend Version 1.0.980.1 is planned for deployment on Tuesday, May 22. Expect several hours of downtime tomorrow while the patch is deployed.



Major Highlights

Three new weapons have been added to the Brute class. Watch the Staying Alive Update video for additional information.
A "Watch Now" option has been added to the main menu. From this menu, you can view Featured Live Streams of Tribes from TwitchTV, as well as watch Featured YouTube Videos from Hi-Rez and the Community.
Players that have an active booster will be awarded 1,200 XP daily (at approximately 10:00 GMT). This is on top of your booster's regular rewards.


NOTE: Upon installation of this patch, a small pre-requisite program will be run by the Tribes Launcher. This is an update to the game's embedded browser in order to enable the "Watch Now" functionality.


Weapon/Balance Items

Added 3 new weapons for the Brute class:
The Gladiator fires a charged round that sticks to walls and releases multiple shockwaves. Detonates instantly in a focused blast if it hits an enemy.
The Plasma Cannon is the big brother to the Plasma Gun, firing balls of energy that explode on contact.
The Survival Pack increases maximum energy pool by 15, and can be modified for extra health and run speed, and energy regeneration.
The Rage Perk now grants 35% mass reduction against knockback while the player is enraged. (More powerful disk jumping).
Increased the distance from the flag the Rage Perk will activate by 33%.
Added an invulnerability timer to vehicle spawns, 2.25s from the time the vehicle spawns in.
Reduced collision size on Raider's Plasma Gun projectile by roughly 12%.
Reduced damage on Infiltrator's Jackal by roughly 4%.
Increased damage on Soldier's Proximity Grenade by roughly 3%.


Additional Items

Fixed an issue in which some accolades were not showing up on the Profile screen.
Fixed an issue in which a deploying mine could be detonated obsolete by their owner.
Fixed an issue in which players could lose weapons when placing a deployable in certain high-lag situations.
Fixed an issue in which players in a passenger seat could be teleported into a vehicle they spawned, breaking several gameplay mechanics.
Fixed a bug in Team Deathmatch in which you could spawn on a "third" team.
Fixed an issue where players with the Pilot perk equipped could change teams instantly while they were in a vehicle.
Fixed an issue in which the game console could open while you were in the in-game web-browser.
Fixed an issue where swapping the Saber Launcher to a Repair Tool was still trying to target other players.
Players can only suicide once every five seconds.
Fixed an issue where deploying mines and then walking over them was causing them to explode.
Fixed an issue where the flag could sometimes "hop" as it came to a stop when thrown on a hill.
Fixed an issue where sticky projectiles could stick and explode targets differently between server and client.