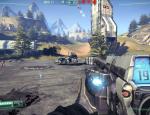 Malgré les fêtes, les développeurs de
Tribes : Ascend
travaillent non-stop pour sortir des mises à jour pour la bêta du jeu. La dernière en date, estampillée 0.1.640.0, est bien plus légère que la précédente
sortie le 21 décembre
. Néanmoins, on note que les projectiles de certaines armes héritent désormais de 50% de la vitesse du tireur, que les balles traçantes ont été améliorées, que l'efficacité du fusil sniper a été réduit contre les shrikes, et enfin, corrige le bug du
First Win of the Day
et d'autres plus mineurs.
La liste complète des changements se trouve dans la suite de la nouvelle.
Patch Notes for December 28, 2011
Tribes Closed Beta Version 0.1.640.0
Significant Changes

Improved tracers on most rapid-fire projectile weapons.
Modified projectile inheritance on all Spinfusors, all Bolt Launchers, the ArxShotgun, and Thumper (flat 50%).
Reduced sniper rifle effectiveness versus Shrikes.
Fixed a bug in the First Win of the Day bonus.
Fixed a bug that would prevent players from getting their rewards at end of match under some conditions.
Fixed a bug with the gravcycle that could cause all players to disconnect from a match under some conditions.