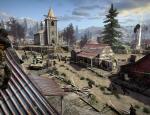 Le
blog officiel
de
MAG
annonce la sortie du
patch
1.04a pour le jeu multijoueur exclusif à la PS3. Ce dernier ce concentre essentiellement sur l'équilibrage du
gameplay
, que ce soit au niveau des cartes (notamment Syr Daria Uplink) ou des modes de jeu (surtout le mode Sabotage).
Par ailleurs, les développeurs ont fait de nombreux ajustements sur les cartes pour éviter le
spawn camping
. Ce que vous voyez sur l'image ci-contre est donc de l'histoire ancienne.
La liste complète des changements se trouve dans la suite de la nouvelle.
Patch v1.04a
Available March 17, 2010 | N/A (TPPS), 84MB (DLS)

Gameplay

* Adjusted player boundaries to limit "spawn camping" exploits in Darien Network, Copper Hills Relay and Syr Daria Uplink maps.

Map – Syr Daria Uplink

* Pushed in physical defensive boundary for Attacker's "Alpha Squad" spawns 10 meters.
* Removed two short staircases in front of Attacker's "Alpha Squad" spawn.
* Relocated box truck to block sightline on attacker's right side at "Objective A" stairwell.
* Added box truck to block sightline exploit to Attacker's "Alpha" squad main entrance.
* Added fence line to Attacker's right side at "Objective A."
* Pushed parachute drop near "Objective C" forward by 25 meters.
* Added new entrance to "Objective C" building in right corner.
* Added additional geometry near "Objective C" to block sightline exploits near main door.
* Added and removed various small object and panel locations to repair or enhance sightlines.
* Multiple terrain repaints in various locations.

Technical

* Fixed crash that sometimes occurred when reviving players who died while interacting with objective.