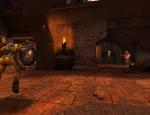 Alors qu'il se faisait plutôt discret depuis quelques mois,
Quake Live
(version gratuite de
Quake III Arena
, jouable dans un navigateur) revient sur le devant de la scène par le biais de la société
GNi
, qui vient d'annoncer être chargée par
id Software
de s'occuper de toute l'infrastructure du jeu, à savoir la distribution, la maintenance des serveurs, les rapports de bugs éventuels, l'organisation de tournois, ou encore les statistiques et classements des joueurs.
Le communiqué de presse entier (en anglais) se trouve dans la suite de la nouvelle.
GNi to Host New id Software QUAKE LIVE Title

Infrastructure as a Service (IaaS) Provider GNI to Host id Software's QUAKE LIVE Arena Shooter on Its Expandable DHI Environment

SAN JOSE, Calif.--(BUSINESS WIRE)--GNi, a leading provider of Infrastructure as a Service (IaaS) hosting solutions, announced today that is has been selected by id Software to facilitate the delivery of QUAKE LIV, an innovative and free-to-play online multiplayer shooter experience based on the popular QUAKE Arena games.

Created by id Software as an all-new way to deliver the excitement and energy of first-person multiplayer action to a broader audience than ever before, QUAKE LIVE offers game players of all skill levels a totally free and easily accessible multiplayer game and community through a single website at quakelive.com. Every element of the experience, including friends lists and communication, player skill matching, sponsored events and tournaments, stats tracking, and even the game itself is accessed and delivered free of charge through the web browser.

"GNi has significant experience in the hosting of rapidly-scaling online games which solidified them as an excellent choice to host QUAKE LIVE. The back-end systems and infrastructure are critical elements in reliably delivering QUAKE LIVE's state-of-the-art web interface, and GNi ability to scale quickly using their Dedicated Hosting Infrastructure ensures that we always have the immediate and flexible capacity to provide our constantly expanding player base the best game experience on the web" stated Todd Hollenshead, CEO of id Software.

"Id Software is certainly a marquee brand and historically significant in the development of present day online gaming, so to be chosen to be a part of this rollout is a significant honor for GNI" said Philip Bouchard CEO of GNI. "The respective visions of id Software and GNI come together as we continue to see growth in the web-based community model as a strategic venue for reaching dedicated gamers and creating brand loyalty through well executed development and delivery."

With the massive growth of online gaming, GNi continues to see increasing demand for high-performance, low — latency games infrastructure. With the traditional do-it-yourself model, game developers and publishers have to struggle to meet that demand via risky capital expenditure. IaaS gives game companies flexibility through the elimination of the need to purchase servers, software, data center space or network equipment. Developers and publishers see dividends by releasing games online, and are more likely to utilize this IaaS model as a way to release new games without large-scale infrastructure investment.

To get more information about QUAKE LIVE and sign up to participate in the ongoing beta, please visit www.quakelive.com.