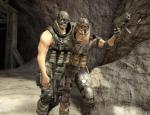 Army of Two
, le TPS bourrin d'
Electronic Arts
qui s'est vendu à deux millions d'exemplaires (PS3 et X360 confondues) et a généré un chiffre d'affaires de 100 millions de dollars sera prochainement porté sur grand écran par le major Universal Pictures, qui vient d'acquérir les droits du jeu auprès de l'éditeur et développeur.
Universal distribuera donc et co-produira le film, Scott Stuber (
The Kingdom
,
The Wolf Man
) co-produira également via sa société Stuber Productions, tandis que Scott Z. Burns
The Informant
) adaptera le scénario du jeu pour le cinéma. La production du jeu devrait commencer dès 2009, pour une probable sortie en 2010. Mais pour la date de sortie, ce n'est que pure spéculation de ma part.
Le communiqué de presse entier (en anglais) se trouve dans la suite de la nouvelle.
REDWOOD CITY, Calif.--(BUSINESS WIRE)--Electronic Arts Inc. (NASDAQ:ERTS - News) today announced that the company has closed a deal with Universal Pictures to bring EA's new franchise and top-selling videogame, ARMY OF TWO, to the big screen.

Scott Stuber, through his Stuber Productions shingle, will produce the film along with EA, and screenwriter Scott Z. Burns, who recently co-wrote the blockbuster THE BOURNE ULTIMATUM, has signed on to adapt the game for the screen. Universal Pictures, Stuber Productions and EA are planning to begin production of the film in 2009.

ARMY OF TWO, which has grossed over $100 million(a) in sales since its release in March 2008, is the second film project that EA has set in motion as part of an aggressive strategy to move its IP across more entertainment platforms. The company is also currently developing THE SIMS at 20th Century Fox with producer John Davis.

"ARMY OF TWO is a great project that has already attracted top name talent, and we're glad to be working with Electronic Arts on making this hit game into a film franchise" said Donna Langley, President of Production at Universal Pictures.

"Electronic Arts is a pioneer in its field, and I look forward to collaborating with them and the Universal team in taking their cutting-edge storytelling into the world of film" said producer Scott Stuber.

Scott Z. Burns added, "I'm thrilled that EA and Universal see the potential to make a smart thriller that has real implications in the world we live in today."

"Our goal is to be in business with the highest level artists and producers as we adapt exciting games such as ARMY OF TWO into compelling film and television entertainment" said Patrick O'Brien, Vice President of EA Entertainment.

Added Alain Tascan, General Manager of EA's Montreal studio, and Reid Schneider, Executive Producer of the franchise, "We couldn't be more excited about working with Scott, Scott, Pete and the entire Universal team."

ARMY OF TWO, which shipped earlier this year for the PLAYSTATION®3 computer entertainment system and the Xbox®360 videogame and entertainment system, is a strategic co-operative third-person shooter which features a captivating and politically-charged storyline. The game is set in the world of private military contractors and follows the missions of Rios and Salem. After an extensive career in the Rangers, they're drawn into the business of war. However, they quickly learn their employer is as corrupt as the people they're sent to take out.

The unique gameplay of ARMY OF TWO brought a new and groundbreaking co-op gaming experience to players worldwide. Focusing on two-man tactics to ultimately create an advantage no enemy can withstand, players have to fight their way through war, turmoil and a conspiracy so vast it threatens the entire world.

Universal will release the Stuber Productions' David Wain comedy ROLE MODELS starring Paul Rudd and Seann William Scott on November 7th, followed in April 2009 by THE WOLFMAN, directed by Joe Johnston and starring Benicio Del Toro, Emily Blunt and Anthony Hopkins. The company is currently in preproduction on the Peter Billingsley-directed comedy COUPLES RETREAT starring Vince Vaughn, Jason Bateman and John Favreau, who also wrote the script. Other films to be released by Universal include TRAVELING, directed by Brandon Camp and starring Jennifer Aniston, Aaron Eckhart and Martin Sheen and the sci-fi thriller REPOSSESSION MAMBO starring Jude Law and Forest Whitaker and directed by Miguel Sapochnik.

Writer-director-producer Scott Z. Burns co-wrote the blockbuster THE BOURNE ULTIMATUM, the 2007 action thriller from Universal that grossed over $442 million worldwide, and wrote and directed the critically-praised HBO film PU-239 which was produced by George Clooney and Steven Soderbergh. He also wrote the screenplay for the upcoming THE INFORMANT, directed by Soderbergh and starring Matt Damon. Burns joined Laurie David and Laurence Bender as producers of the Academy Award-winning documentary AN INCONVENIENT TRUTH, for which he received the Humanitas Prize and the Stanley Kramer Award from the Producers Guild of America. Burns is producing, along with Lorenzo di Bonaventura, the Colombian hostage crisis action thriller at Warner Bros. Burns is developing an original series for HBO based on the work of humanitarian aid organizations with fellow producers Angelina Jolie and Brad Pitt. Burns' credits also include writing for the ABC series WONDERLAND.

Electronic Arts and Scott Z. Burns are represented by United Talent Agency, which also brokered the deal on behalf of Scott Stuber.

(a) Based on NPD data.

About Universal Pictures
Universal Pictures is a division of Universal Studios (www.universalstudios.com). Universal Studios is part of NBC Universal, one of the world's leading media and entertainment companies in the development, production and marketing of entertainment, news and information to a global audience. Formed in May 2004 through the combining of NBC and Vivendi Universal Entertainment, NBC Universal owns and operates a valuable portfolio of news and entertainment networks, a premier motion picture company, significant television production operations, a leading television stations group and world-renowned theme parks. NBC Universal is 80% owned by General Electric, with 20% controlled by Vivendi.

About Electronic Arts
Electronic Arts Inc. (EA), headquartered in Redwood City, California, is the world's leading interactive entertainment software company. Founded in 1982, the Company develops, publishes, and distributes interactive software worldwide for video game systems, personal computers, cellular handsets and the Internet. Electronic Arts markets its products under four brand names: EA SPORTSTM, EATM, EA SPORTS FreestyleTM and POGOTM. In fiscal 2008, EA posted GAAP net revenue of $3.67 billion and had 27 titles that sold more than one million copies. EA's homepage and online game site is www.ea.com. More information about EA's products and full text of press releases can be found on the Internet at http://info.ea.com.

EA, EA SPORTS, EA SPORTS Freestyle, POGO, Army of Two, The Sims, Need for Speed, Medal of Honor, Command & Conquer, Dead Space and Spore are trademarks or registered trademarks of Electronic Arts Inc. in the U.S. and/or other countries. John Madden and NFL are trademarks of their respective owners. "PLAYSTATION" is a registered trademark of Sony Computer Entertainment Inc. Xbox 360 is a trademark of the Microsoft group of companies. All other trademarks are the property of their respective owners.