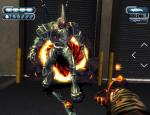 Rien n'est jamais de trop pour tenter de réussir l'ambiance d'un jeu. Preuve en est aujourd'hui
The Conduit
, pour lequel les développeurs de
High Moon Studios
ont réquisitionné les services du compositeur et arrangeur musical Diego Stocco, peu connu du grand public, mais possédant néanmoins une aura certaine dans le domaine de l'acoustique.
Surtout reconnu pour son travail d'arrangeur musical, il a à son palmarès quelques films comme
Hypertension
ou
Bleu d'enfer
, mais a également officié sur plusieurs jeux vidéo, tels que
Far Cry Instincts
ou Soul Calibur IV. Voilà qui peut promettre quelques envolées épiques au milieu d'une fusillade avec des extra-terrestres.
Le communiqué de presse entier (en anglais) se trouve dans la suite de la nouvelle.
Hoffman Estates, IL ; September 9, 2008 - High Voltage Software, Inc., one of the world's largest independent developers, today officially announced that their stunning first-person action shooter, The Conduit, has been scored by famed composer Diego Stocco.

Diego Stoccos music sound design credits include movies such as Transformers, Resident Evil: Extinction, Crank, Jumper, Lady in the Water, and videogame soundtracks for Justice League Heroes and SoulCalibur IV. His commercial credits include Nokia, Samsung, Panasonic, BMW and General Motors.

"Working with Diego was such an enjoyment", said Michael Metz, Audio/Visual Director at High Voltage Software. "When I heard the first track he made for The Conduit, I literally got the chills, it was exactly the mood and mix of sound design and music we were looking for."

"The Conduit unveils incredible scenarios during the game, with a richness in terms of details and action that is very inspiring for a composer, said Stocco. "I'm very excited to be part of The Conduit; it's the kind of project that makes me push the envelope in terms of sound creativity."

The Conduit won several awards following its appearance and demonstration at E3 2008. IGN.com gave it three awards, including Best Shooter Game of E3 2008 (Wii), Best Graphics Technology of E3 2008 (Wii), and Best Overall Wii Game of E3 2008. GameTrailers.com also gave it Best Wii Game of E3 2008.

The Conduit is scheduled for release in Q1 2009 exclusively for the Nintendo Wii.