3 avril 2008, 17h29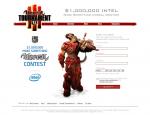 Epic Games
avait annoncé bien avant la sortie d'
Unreal Tournament III
que le concours
Make Something Unreal Contest
serait de nouveau lancé avec la sortie de son titre. Chose promise, chose due, puis que le développeur vient de mettre en ligne
la page dédiée au concours
. Le prix est toujours la remise d'une licence pour exploiter l'
Unreal Engine 3
, 500 000 dollars répartis dans 20 catégories ainsi que des lots généreusement fournis par Intel, le partenaire de l'évènement.
L'ensemble du communiqué de presse ainsi que tous les détails complémentaires se trouve en anglais dans la suite de la nouvelle.

CARY, N.C. – April 3, 2008 – Epic Games, Inc., the award-winning developer of multimillion-selling games and the world's leading game engine, Unreal Engine 3, today announced plans to follow up the original "$1 Million Make Something Unreal Contest" with an all new competition to include esteemed sponsor, Intel Corporation. Winnings exceed $1 million in value, and consist of one coveted Unreal Engine 3 license as a grand prize and other cash awards and prizes, including Intel® Software Development Products and Velocity Micro PCs based on the Intel® Dual Socket Extreme Desktop Platform with two Intel® Core™2 Extreme quad-core processors. The 2008 "$1 Million Intel Make Something Unreal Contest" will be judged in four preliminary phases and a grand final. Judging will begin in June 2008 and will conclude, with the grand final prizes being awarded, in fall 2009.

To participate, aspiring game developers create modifications ("mods") for the PC version of Unreal Tournament 3 in a wide range of categories including environments, characters, weapons, gameplay, tools, vehicles and more.

Through the contest, players can unleash their creative skills, make new content and game experiences using cutting-edge game technology, and reap rewards on many different levels. The content created for this contest will be freely available to players of the PC version of Unreal Tournament 3 worldwide.

"To all you aspiring game developers out there – this is your chance to get in the big leagues. We have categories for all kinds of creatively talented people including programmers, artists, 3D modelers, designers and even aspiring film directors," said Mark Rein, vice president of Epic Games. "You get to use the same world-class Unreal Engine 3 toolset we used to create Unreal Tournament 3 and Gears of War. Unreal Engine 3 is used by many of the industry's leading game companies, so this is truly a chance to prove your worth and get your foot in the door of the game business while having your work potentially exposed to millions. To get mod-makers started, the collector's edition of Unreal Tournament 3 includes over 20 hours of 3D Buzz's professional-level video training materials for the Unreal Engine 3 toolset."

"The '$1 Million Intel Make Something Unreal Contest' demonstrates Intel's ongoing commitment to helping game developers harness the capabilities of the PC gaming platform," said Elliot Garbus, vice president, Software and Solutions Group, general manager, Visual Computing Software Division, Intel Corporation. "We are passionate about unleashing developers' innovation through our popular software developer tools, our Intel® Core™ 2 processor family, and high-performance platforms, like the eight core Intel® Dual Socket Extreme Desktop Platform, formerly codenamed 'Skulltrail'. Combining Intel products with the Unreal Engine modding tools provides a wonderful opportunity for aspiring developers, machinima artists, and modders to jump in and truly change the game."

The last "$1 Million Make Something Unreal Contest" catapulted World War II shooter Red Orchestra to fame. Its development team, Tripwire Interactive, was awarded the grand prize, an Unreal Engine 3 license, for overall Best Mod and throughout the contest earned nearly $80,000 in cash and computer hardware prizes. Red Orchestra was later shipped to retail outlets worldwide. "A few years ago, we were just a group of fans with an idea to make a mod that we would all like to play," said Tripwire Interactive President John Gibson. "The Unreal Engine and its mod tools were perfect for the game we wanted to make, and with the hard work and determination of our team we used those tools to create Red Orchestra and win the mod competition. Winning the 'Make Something Unreal Contest' helped the Tripwire Interactive team realize our dream of founding our own development studio and bringing our game to retail. It is a real life 'Rags to Retail' story."

Universities and students can participate as well. "We were pleased to be a winner in the educational category of the first contest sponsored by Epic and look forward to being part of this year's competition," said Dr. Peter Raad, founder and executive director of The Guildhall at SMU. "Unreal Engine technology has been a cornerstone of our program and has been a big part of us sending more than 180 artists, level designers and programmers since 2004 to work at more than 70 video game studios around the world."

For more information about the "$1 Million Intel Make Something Unreal Contest," visit www.makesomethingunreal.com.

About Unreal Tournament 3
Published by Midway, Unreal Tournament 3 marks the return of the world's premiere first-person shooter to the PC, and its debut on the PLAYSTATION®3 system. Unreal Tournament 3 unleashes the full power of Unreal Engine 3, taking graphics, gameplay and challenge to a whole new level. Players engage in intense battles with other human players online, or against Unreal artificial intelligence that sets the industry standard. With the most powerful futuristic weapons and vehicles available, this is FPS action at its best! More information about Unreal Tournament 3 can be found online at www.unrealtournament3.com.

About Unreal Engine 3
The award-winning Unreal Engine is known for cutting-edge graphics and its best-of-breed toolset. Unreal Engine 3 maintains those features while adding massive world support, multi-processor support, next-generation console optimizations, and one of the most mature tool pipelines in the industry. Unreal Engine 3's advanced toolset is designed specifically to accelerate developers' productivity for ultra-complex, next-generation content. Additional information on Unreal Engine can be obtained through the Unreal Technology Web site at www.unrealtechnology.com.

About Epic Games
Epic Games, Inc., based in Cary, NC and established in 1991, develops cutting-edge games and cross-platform game engine technology. The company has created multiple million-selling, award-winning titles in its Unreal series, recently shipping Unreal Tournament 3 for PC and PlayStation 3. Epic's breakthrough game, Gears of War, sold over 4.5 million copies and was awarded overall Game of the Year for 2006 by the Academy of Interactive Arts & Sciences, Game Developers Choice Awards, GameSpot, GamePro and many others. Epic is also responsible for the Unreal Engine, which is the underlying technology for a wide range of games including the Game Critics Awards' Best Console Game and Spike TV's 2007 RPG of the Year Mass Effect by BioWare and the 2007 BAFTA Best Game and Spike TV Game of the Year BioShock by 2K Games. Epic's Unreal Engine 3 is the current holder, and three-time consecutive winner, of Game Developer magazine's Front Line award for Best Engine. Epic was also recognized as 2006 Studio of the Year by Spike TV, 2006 Developer of the Year by Official Xbox Magazine and 2007 Large Company of the Year by the North Carolina Technology Association. Additional information about Epic can be obtained through the Epic Games Web site at www.epicgames.com.

About Intel
Intel, the world leader in silicon innovation, develops technologies, products and initiatives to continually advance how people work and live. Additional information about Intel Software is available at www.intel.com/software. Additional information about Intel is available at www.intel.com/pressroom and blogs.intel.com.

Epic, Epic Games, Unreal, Unreal Tournament and Gears of War are trademarks or registered trademarks of Epic Games, Inc. in the United States of America and elsewhere. All other trademarks are the property of their respective owners. Copyright ® 2007 INTEL Corporation. All rights reserved.