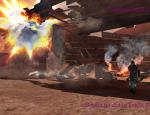 Ce n'est plus un secret pour personne
depuis plusieurs semaines
, mais les pontes de chez
THQ
ont préféré attendre la GDC pour se fendre d'un communiqué officiel, dans lequel ils expliquent qu'ils renouvellent leur licence populaire dans le but de repousser les limites de l'exploitation de l'environnement jouable, avec tout plein de décors destructibles comme vous ne l'avez jamais vu auparavant.
Dans cet acte officiel, vous apprendrez également que
Red Faction : Guerrilla
se déroule 50 ans après les événements du
premier opus
, toujours sur Mars, et que le suffixe "Guerilla" n'a pas été choisi pour rien, puisque vous devrez combattre pour votre liberté dans une planète terraformée aux mains de la tyrannique EDF.
Le jeu est prévu sur PC, X360 et PS3 pour l'année fiscale 2009, donc très certainement en 2009 plutôt qu'en 2008. Et au passage : le jeu sera un TPS. C'est con, mais c'est comme ça.
Le communiqué de presse (en anglais) se trouve dans la suite de la
news
:
AGOURA HILLS, Calif.--(BUSINESS WIRE)--THQ Inc. (NASDAQ:THQI - News) today announced that Volition, Inc.'s critically acclaimed Red Faction® franchise will make its open-world, next-generation debut with Red Faction®: Guerrilla™. Set 50 years after the climactic events of the original Red Faction, this third-person open-world action-shooter will return to Mars and once again re-define the limits of destruction-based game-play. Red Faction: Guerrilla is currently in development for Microsoft Xbox 360® video game and entertainment system from Microsoft, Sony PLAYSTATION® 3 computer entertainment system, and Windows-based PC, and is scheduled to ship in THQ's fiscal year 2009.

"Red Faction is one THQ's most successful and critically acclaimed original franchises to date, with a huge global base of loyal fans waiting to join the new revolution," said Brad Carraway, director of global brand management, THQ. "With the game's unique pairing of true physics-based destruction, fast-paced guerrilla warfare style combat, and a massive world to explore – Red Faction: Guerrilla will redefine the limits of open-world gaming."

"Red Faction: Guerrilla expands the signature destruction elements of the series and pushes the boundaries of next-gen gaming on a massive, terra-formed Mars where gamers can literally tear down the enemy EDF presence brick by brick," said Mike Kulas, president of Volition, Inc. "With a new 3rd person perspective, a full cover system that allows for guerrilla style tactics and a diverse planet to explore we're excited to revitalize the gripping world of Red Faction for high-definition platforms."

About Red Faction: Guerrilla
Red Faction: Guerrilla is a 3rd person, open-world action shooter set on Mars, 50 years after the events of the original Red Faction. Players will take the role of an insurgent fighter with the newly re-established Red Faction movement as they battle for liberation from the oppressive Earth Defense Force. Throughout their fight for freedom, players will carve their own path, wreaking havoc across the vast, open-world environment of Mars, from the desolate mining outpost of Parker to the gleaming EDF capital city of Eos. Utilizing improvised weapons, explosives and re-purposed mining equipment and vehicles, Red Faction: Guerrilla allows players to tear through fully destructible environments in an unforgiving Martian landscape swarming with EDF forces, Red Faction resistance fighters, and the downtrodden settlers caught in the cross-fire. Red Faction: Guerrilla will also feature a robust multiplayer component, including several modes focused on destruction-based gameplay. Currently in development for Microsoft Xbox 360, Sony PLAYSTATION 3, and Windows PC, Red Faction: Guerrilla is expected to ship to retailers worldwide in THQ's fiscal year 2009.

About THQ
THQ Inc. (NASDAQ:THQI - News) is a leading worldwide developer and publisher of interactive entertainment software. The company develops its products for all popular game systems, personal computers and wireless devices. Headquartered in Los Angeles County, California, THQ sells product through its global network of offices located throughout North America, Europe and Asia Pacific. More information about THQ and its products may be found at www.thq.com and www.thqwireless.com. THQ, THQ Wireless, Volition, Inc., Red Faction: Guerrilla and their respective logos are trademarks and/or registered trademarks of THQ Inc.