7 septembre 2007, 06h00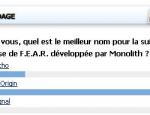 Monolith Productions
a mis le temps avant de communiquer les résultats du concours
NameYourFEAR
, qui permettait de voter pour déterminer le nom de la suite officieuse de
F.E.A.R.
. Ces résultats sont d'ailleurs similaires à notre propre sondage : c'est
Project Origin
qui remporte haut la main la première place.
Rappelons que Monolith est le studio qui a développé
F.E.A.R.
mais qui s'est vu dans l'impossibilité de réutiliser ce nom-là suite à la détention de la licence par
Vivendi Universal Games
. Si le nouveau projet devrait au moins conserver l'"esprit" de
F.E.A.R.
, il ne faudra pas le confondre avec la suite officielle du jeu qui est quant à elle à chercher dans les cartons de
Vivendi Universal Games
et qui s'intitulera
F.E.A.R. : Perseus Mandate
.
C'est
Warner Bros. Interactive Entertainment
qui devrait se charger de l'édition de ce titre dont l'histoire tournera toujours autour de la mystérieuse Alma.
Le communiqué complet (Anglais) se trouve dans la suite de la nouvelle.
BURBANK, Calif.--(BUSINESS WIRE)--Warner Bros. Interactive Entertainment will publish Project Origin, the videogame sequel to the hit game F.E.A.R., developed by Monolith Productions for the Xbox 360™ video game and entertainment system from Microsoft, PLAYSTATION®3 computer entertainment system and Games for Windows®. The name was chosen by the fans, as they submitted entries and then voted for the winning submission.

"Project Origin is the name we can stand behind since it was picked by the gaming community, and this game marks a new beginning for the franchise," says Samantha Ryan, Senior Vice President, Production and Development, Warner Bros. Interactive Entertainment. "With the consoles and the PC, we're dedicated to add a new game dynamic to the universe and build upon what the players loved about the original game."

"Our team really enjoyed letting the fans drive the naming process, and we are excited to expand upon the work we began in the original game and establish Project Origin as a premier gaming franchise in its own right," said Troy Skinner, Producer, Monolith Productions.

The sequel will continue the original game's spine-tingling supernatural suspense story of an escalating paranormal crisis that threatens to destroy a major American city. At the center of the calamity is the mysterious Alma, whose rage against those who wronged her triggered a chain of events that have spiraled completely out of control. Now that she has free reign, the consequences will be unimaginable.