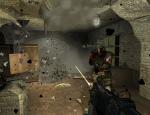 Robert Siwiak co-producteur pour Extraction Point raconte pas mal de conneries à
Gameworld Network
au sujet de l'add-on de F.E.A.R. lors d'une
entrevue
de trois pages.
En effet, le bonhomme affirme que l'avantage de développer une extension pour un jeu est qu'elle sort bien après ce dernier et donc les développeurs peuvent s'appuyer sur les commentaires ou critiques qui ont été faites sur le jeu pour rendre sa "suite" bien meilleure que l'original.
Or pour ce qu'on a vu de l'add-on de F.E.A.R. au Festival du Jeu Vidéo, il s'avère que ce n'est finalement pas une révolution et que les critiques qui ont été adressées à son aîné pourrait bien lui revenir aussi : Même ennemis tous identiques, Level Design particulièrement monotone et répétitif.
Preuve en est quand il répond à la question finale :
What does the game add to the original, feature-wise and game play-wise?
A lot of our key features have been covered in the previous questions, but, we've also put a lot of thought into how both the player and the AI will interact with the world around them.

Explosives and even the bash of your weapon will now knock open doors for a surprise entrance, while destructible supply crates ensure there's a fresh supply of lead to feed to your enemies.

Combat in F.E.A.R. is very visceral, and we wanted to add even more to the incredible cinematic nature of the fights. We've pushed ourselves to pack Extraction Point's environments with highly-destructive and interactive elements, so players should have no trouble tearing the world apart with our enhanced arsenal. Pillars will collapse, walls will explode, and enemies will never be content until they have hunted you down.
Au lieu de travailler sur le
level design
, le
character design
et le scénario, TimeGate a bossé sur l'interaction avec l'environnement en permettant au joueur d'entrer par surprise dans une pièce, trop super.