THQ
nous prépare pour l'automne un FPS multiplateforme (Xbox, PC et Playstation 3) du nom de
Frontlines: Fuel of War
Ils ont délégué la conception à leur studio nouvellement créé à savoir
Kaos Studio
. Celui-ci comprend des anciens de Battlefield 2 et de Trauma Studio (auteur du plus célèbre mod pour Battlefield 1942, Desert Combat).
Visiblement gêné par le succès de Batlefield 2, THQ met tous les moyens de son côté pour nous concocter un FPS basé sur une intrigue (que l'on pourrait qualifier) d'actualité puisqu'il s'agit tout simplement d'une guerre pétrolière.
Alors, qui de la Western Coalition (Etats-Unis, Union Européenne) ou de la Red Star Alliance (Chine/Russie) sortira vainqueur de cette quête pour l'or noir ?
Rendez-vous sur le sable chaud du golfe pour plus d'info.
EDIT
: Quelques heures après son annonce,
Frontlines: Fuel of War
se voit illustré d'un première image pas franchement impressionante pour un jeu qui est sensé sortir en 2007.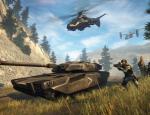 Le comuniqué complet se trouve dans la suite de la news.
THQ Announces Frontlines(TM): Fuel of War(TM) From Internal Developer Kaos Studios(TM)

Creators of Desert Combat and Key Technologies for Battlefield 2 Prepare for Next-Generation Warfare on PLAYSTATION(R)3, Xbox 360(TM) and Windows PC

AGOURA HILLS, Calif., April 20 /PRNewswire-FirstCall/ -- THQ Inc. (Nasdaq: THQI) announced today Frontlines(TM): Fuel of War(TM), the first product from its internal developer, Kaos Studios(TM). Founded by veterans of Trauma Studios, creators of Desert Combat and designer of key technologies for Battlefield 2, Kaos Studios is set to deliver an evolution in riveting, open-world first-person shooter gameplay. Frontlines: Fuel of War is being developed for PLAYSTATION(R)3, Xbox 360(TM) video game and entertainment system from Microsoft and Windows PC, and is expected to be released in fall 2007.

"Frontlines: Fuel of War will take players to the next generation of combat. The game focuses on the cutting edge in military technology that will allow players to experience the highly-charged frontlines of tomorrow, today," said Frank DeLise, general manager, Kaos Studios. "Through intense, nail biting, non-linear single- or multi-player campaigns, players will be able to use more than 60 vehicles and advanced weaponry, from next-generation assault tanks to experimental RC drones."

"Kaos Studios represents THQ's increased focus on fostering the industry's most talented individuals to deliver innovative and original titles for the next-gen cycle," said Kelly Flock, executive vice president, worldwide publishing, THQ. "Frontlines: Fuel of War bridges two of the most popular genres in gaming, and it's all from the very creative minds of an elite team with a proven track record of success."

About Frontlines: Fuel of War

Frontlines: Fuel of War is an open world, infantry- and vehicle-based FPS (First Person Shooter) featuring advanced next-gen weaponry in a desperate, near future setting where controlling the planet's depleting fossil resources determines the ultimate fate of civilization. A global war for oil is being waged between two superpowers, the Western Coalition (US/EU) and the Red Star Alliance (Russia/China), and players will be instrumental in determining how the war is waged -- and won. The single player campaign will focus on this powerful storyline as players' execute missions focused on non-linear gameplay, moving their frontline through enemy held territory.

About Kaos Studios

Kaos Studios, a division of THQ Inc. located in New York City, was formed in 2005 by industry veterans of the FPS genre. The core members of the group came from Trauma Studios, creators of Desert Combat (one of the most successful mods of all time from the original Battlefield) and the R&D team for DICE's Battlefield 2. The 50-person team includes additional members from the development teams of other acclaimed shooters, including FEAR, Medal of Honor and Doom 3. More information about Kaos Studios and its products can be found at www.kaosstudios.com.