L'excellente modification UT2004 nommée
Frag Ops
vient de sortir sous sa version 2.0. Beaucoup de choses ont changé, comme l'insertion des véhicules dans le jeu qui rendront sûrement les parties différentes ainsi que de nouvelles cartes ont été ajoutées. Pour rappel, Frag Ops vous propose de vous plonger dans l'univers militaire façon counter-strike, tactical ops.
Rien de tel que quelques images pour vous donner un avant-goût de ce mod.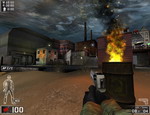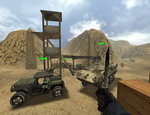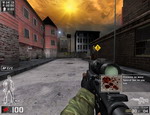 Passons maintenant au téléchargement.
Enfin, voici le
changelog
(certes en anglais, mais toujours bon à lire) :
Wave-based respawn system for War gametype
Multiple modes of play for War: War TDM (custom TDM), Objective Capture, Linear Objectives, and both Capture+Linear
Classic Mission gametype, round based team elimination and objective play
High quality weapon animations and sound
Professional-level voice acting
Combat Experience (CXP) determines which weapons a player can use, and how advanced his build/deploy upgrades are
Build, deploy, and upgrade items like Jeeps, Machine Guns, SandBag Walls, even an APC with .50cal MG and Concussive Grenade launcher
Attributes system for distributing focus points: Mechanics for vehicles, Weapons for deployable weaponry, Structures for static objects
Trait system lets a player be who he wants: choose a trait that matches your play style or personality
Beautiful new and classic environments like a rustic city by the bay, a factory near the lush fields of Germany, and the virus production plant of an evil corporation
Dynamic Objects system makes many ingame items highly realistic, like grenades that are deflected and destroyed with gunfire
Shooting dead bodies will make them react to gunfire in network games
Realtime Shadows cast multiple dramatic player shadows that follow the brightness and direction of lightsources in the level
Choose a head and body skin independantly: mix and match player models!
26 weapons at your disposal with more than 20 optional upgrades, thousands of loadout combinations
Gory custom blood effects and ragdoll
Bot Support
...and a lot, LOT more.