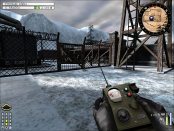 GameSpot
parle
avec Paul Wedgewood sur
Enemy Territory
. Ils discutent sur les dates du projet, le pourquoi du comment le jeu a été créé, pourquoi ce sera un mod gratuit etc.
Toi qui as la chance de tester le jeu, si tu rencontres des problèmes de lag, il suffit de taper dans la console : "/rate 25000" (adsl)
Problems with choppy gameplay may be the result of not setting your connection speed when you create your profile. The connection defaults to ISDN, which is a rate of 5000. If your rate is set to something not appropriate for your connection, you'll get lag. If you're playing over a LAN or a DSL or cable modem, your rate should be set to 25000. To set your rate, pull down the console (~) and type "/rate (number)" without the quotes. You can also do this by choosing the "Options" button in the main menu, then choosing "System" and checking the connection speed (near the bottom of the screen). Be sure to press Apply.