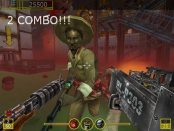 Sur le site de
Seriously
, on apprend qu'un nouvel FPS devrait bientôt voir le jour. Appelé
Nitro Family
ce jeu est développé par les Coréens de
Delphi Eye Entertainment
.
Delphieye?s new breed FPS ?Nitro Family? coming on Christmas of Year 2003!

Delphieye, Inc., one of the leading game developers in Korea that has two in-house developing team for MMORPG ?Helikia? and PC FPS game ?Nitro Family.? ?Nitro Family,? a new hardcore First Person Shooter developed by Delphieye, Inc., will be introduced at 2003 E3 game show. Powered by the world-renowned Serious Sam Engine, ?Nitro Family? mainly focuses on images of the deepest desires of man like violence, sensuality and beauty, with a pure enjoyment of game. By embodying and mixing those images in non-serious way, players will experience a strange but bright and funny atmosphere like B-movies? unique taste. ?Nitro Family? features various original gameplays which are never seen before in any FPS games, such as stylish and flexible Dual-hand weapon system, Midair combo counts, Hyper bombing system, Ecstasy-running mode and much more. ?Nitro Family? will be available on upcoming Christmas season.
Pour informations, il sera présenté lors du salon de l'E3, sera basé sur le moteur de
Serious Sam
et devrait sortir pour Noêl 2003.
De plus une vidéo est disponible en téléchargement sur cette
page
.
Lien :
Page de screenshots