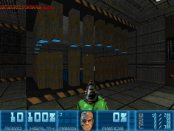 Le site
Doomworld
, nous parle un peu d'un
projet
qu'ils suivent avec attention :
DOOM RTC-3057
. Cet extension pour
DOOM
nécessite
ZDoom
pour fonctionner.
The demo takes full advantage of ZDoom v2.0 features - it sports ACS scripting, colored lighting, slopes, and probably every other feature the powerful port has to offer (be sure you have the latest beta of ZDoom v2.0 to play the demo). It is very story and goal driven, and the developers did an excellent job of immersing the player to emphasize this.
Pour le moment, seule la démo est disponible et voilà ce que vous devez posséder pour y jouer :
Lien :
Gallerie de screenshots
.
Site officiel :
RTC-3057