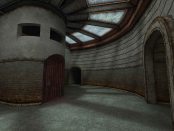 HomeLan Fed
vient de réaliser une entrevue sur le jeu
Painkiller
. La partie solo sera composée de 20 cartes tous les unes différentes des autres. Adrian Chmielarz insiste beaucoup sur ce point. Ce jeu sera basé sur l'horreur avec comme monstre des dames blanches, des sorcières (avec balai) etc...
The hardest thing for us is to not forget we're making a horror shooter. Take the witch for example. We used her, because some of our monsters come from the legends (like banshees, etc.). She is old, ugly, and rides a broom. A broom! It was a challenge to make her scary instead of funny (I mean... A broom!), and we managed to do that, but at the same time we nearly turned her into something more like from Monthy Python's world, than the world of horror. Her broom in particular was a constant source of fun, we joked about adding a speed-o-meter, internal combustion motor, airbag, etc. It was really hard not to get carried away and to keep the focus. But luckily she is like she should be, a mean old b... witch, and you certainly won't think she's funny when you meet her.
En ce qui concerne les armes, les developpeurs se sont inspirés sur celles de "QuakeWorld". Elles ont toutes été conçues afin de permettre des combos. Par exemple, on apprend que le Nitrogun gèlera l'ennemi ainsi vous pourrez facilement le tuer à l'aide de l'arme la plus pourrie du jeu le fusil de châsse.
Au niveau multi-joueur, vous aurez le droit à cinq mods dont les mods classiques tel le deatchmatch et un tout nouveau créé par l'équipe : "
People Can Fly
".
Plus d'informations sur cette
page
.