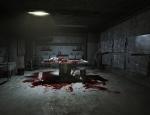 Encore un jeu bientôt disponible pour les barbus et les frimeurs :
Outlast
. L'éditeur (et développeur)
Red Barrels
est assez enthousiaste dans son annonce :
While the team is working very hard on Outlast 2, we are pleased to announce that Outlast and Whistleblower, its DLC, will be released on Mac and Linux on March 31st, 2015, available on Steam.
As ever, thank you for your interest in Red Barrels.