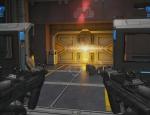 Depuis sa sortie, il y a plus de 100 jours,
Halo : Master Chief Collection
est injouable. En cause, le système de matchmaking et de lobbies qui ne fonctionne pas correctement. Mais ça, c'était avant, car
343 Industries
vient tout juste de sortir la
13e mise à jour du jeu
et promet que cela rend ce dernier enfin jouable. Les fans, qui étaient
proches de l'apoplexie
peuvent donc se rassurer et jouer à leur compil de vieux jeux bêta vendue plein pot. Elle est pas belle la vie ?
Matchmaking

Made a variety of updates to improve matchmaking performance and success rates
Improved matchmaking search times/time to match
Improved stability throughout the matchmaking process across all titles

Parties

Improved party stability

Halo 2

Made improvements to multiplayer shot registration
Improved campaign stability across a variety of levels
Addressed stability issues for matchmaking and custom games
Fixed issues around resuming H2A Campaign from "remastered" mode
Improved medal display consistency

Halo: CE

Fixed issues regarding aim assist which resulted in the reticle being pushed away from an enemy
Improved shot registration consistency between host / client in peer-to-peer custom game matches
Resolved a variety of UI inconsistencies, including team color randomization, medals, and in-game scoreboard display

Let us know about your experience, and check back for details as the team continues work on next month's content update.