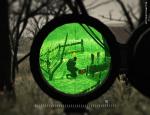 Arrivé en
accès anticipé sur Steam
au mois de juillet,
The Fifth Day
vient de recevoir sa mise à jour 0.0.1a. Le numéro vous donne une idée du niveau d'avancement du jeu et du travail qu'il reste à réaliser. Pourtant, son unique développeur semble tenir le rythme avec cette mise à jour qui tient compte des retours de la communauté exprimés via les forums et par courriel. Ainsi, on voit apparaître la possibilité de réassigner les touches du clavier, ainsi que toute une bardée d'autres options (volume, densité de l'herbe, distance d'affichage, etc.). On notera aussi la correction de bugs (notamment avec les échelles), et le rééquilibrage de certains points du gameplay (notamment concernant le hunter qui voit sa fréquence d'apparition, sa précision et ses dommages réduits).
Update 0.0.1a :
Added basic interiors to 10 different building models. (I will work on expanding on this in the future)
Added customizable key bindings.
Added option to control master volume.
Added option to control grass draw distance.
Added option to control grass density.
Added option to control terrain basemap distance.
Added option to control tree draw distance.
Added option to control tree billboard start distance.
Fixed bug with ladders not working.
Fixed bug with day being added every time a game is loaded in freeplay.
Rescaled loot spawn probability.
Reduced visible effect of radiation accumulation.
Made warehouses by the NPP less overgrown with grass.
Slightly reduced radioactive field size of nuclear power cells.
Enemies should no longer spawn too close to the player.
Slightly reduced probability of encountering the hunter npc.
Decreased the hunter's accuracy.
Decreased the hunter's damage inflicted.
Slightly rescaled transmission efficiency. (e.g. you should move slightly faster when running only on power)
Increased radius of influence on hack tool.