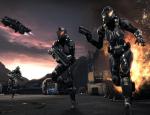 CCP
vient tout juste de sortir la dernière d'une série de mises à jour mensuelles pour
Dust 514
. Le jeu passe ainsi en version 1.7, ajoutant au passage au FPS connecté (légèrement) au MMO Eve Online de nouvelles armes, des maps volcaniques, un nouveau système de véhicules, et des changements majeurs dans le systèmes de factions du jeu
La détail des ajouts et changements se trouve dans la suite de la nouvelle.
New Weapons
Uprising 1.7 brings new and powerful weapons to the battlefield. The Minmatar Combat Rifle is a gas-operated, short-barreled semi-automatic weapon that's well-suited to both short and medium range combat, and the Caldari Rail Rifle is a precision weapon designed for field operations where power and range are critical. These new rifles round out DUST 514's first full set of faction-aligned weaponry, opening up new tactical battlefield opportunities for the mercenaries of New Eden.

Overhauled Vehicles
The vehicles of DUST 514 have also been modified with Uprising 1.7 to amplify their role in the terrestrial conflicts of New Eden. The development team has overhauled the vehicle system for better handling and implemented a new process for streamlining vehicle fitting. This approach lays the foundation for new and exciting vehicle variations planned for the future.

New Volcanic Mood
The ever-expanding battle zones of New Eden now feature a new volcanic mood, adding more diversity and variety to the maps of DUST 514. Mercenaries will battle for dominance as volcanos spew magma in the distance and the ash-choked sky rains debris on the battlefield.

Factional Warfare Upgrade
Factional Warfare, where DUST 514 players choose sides in the ongoing conflict among the factions of New Eden, has gotten an upgrade, raising the stakes and deepening the bonds between DUST 514 and EVE Online. In the revamped Factional Warfare, Orbital Strikes, once initiated from the ground in DUST, must now be earned by capsuleers in EVE by securing satellites in orbit above the contested planet. Players participating in Factional contracts will be rewarded with Loyalty Points to be redeemed for exclusive Faction-aligned weapons. Friendly fire has also been implemented, heightening the action and danger.