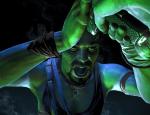 Ubisoft
a fait fort ces derniers jours en publiant une vidéo de
Far Cry 3
par jour. Demain marquera le lancement officiel du jeu, et à cette occasion, l'éditeur n'a pu s'empêcher de nous fournir une ultime vidéo. Mais attention, pour finir en beauté, ce trailer de lancement dure dix minutes.
Sachez par ailleurs que l'éditeur a publié le premier patch du jeu sur PC faisant passer ainsi le jeu en version 1.01. La liste complète des changements se trouve dans la suite de la nouvelle. Enfin, toujours sur PC, si vous avez une carte graphique Nvidia, empressez-vous de télécharger les derniers drivers GeForce 310.64 bêta, qualifiés par la firme au caméléon d'«
essential Upgrade For All Far Cry 3 Players
», qui a pu constater une amélioration de performances allant jusqu'à 37.6%.
Multiplayer
General

Improved overall Multiplayer stability and performance.
Added SHOW TOP, SHOW YOU, PAGE UP and PAGE DOWN options in Leaderboards.
Fix the voice chat issue that would mute players by default.
Lobby chat can now be accessed when a controller is connected.

Co-op

Fixed graphical issues on loading screen hints.
Fixed the issue that would prevent maps from being displayed or randomized the first time a user enters Public Co-op.
Health regeneration option no longer has inverted functionality.
"Flare gun" kills are no longer considered as Assist kills.

PVP

Fixed ground texture resolution.
Grass surrounding fire spawns no longer remain red on Firestorm maps.

Map Editor

Improved white objects thumbnails legibility.
Users can now start a private match in 1 player on user created maps.

Single Player

Improved game stability and performance.
Fixed issues with flickering on specific water textures.
Fixed small UI glitches related to different display resolutions.
"Weapon cache" mission: Mission Zone and Mission Marker no longer stays on mini-map and on screen after mission completion.
Crafting items are now auto selected when entering a new crafting category.
Added sound when zooming in and out the camera with the mouse scroll button.