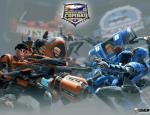 La bêta de MNC a été patchée
Monday Night Combat
le sympathique TPS d'
Uber Entertainment
qui est actuellement en phase de bêta test sur Steam (pour ceux qui ont précommandé le jeu) vient de se voir patché. La liste des changements est assez longue et comprend des corrections de bugs (notamment des crahs sur les version non-anglaises du jeu), des ajustements de
gameplay
et des équilibrages.
Comme d'habitude avec Steam, le jeu se patché automatiquement au prochain démarrage.
La liste complète des changements des deux dernières mises à jour se trouve dans la suite de la nouvelle.
Monday Night Combat Product Update 2

Fixes
• Fixed scrollbars on all scrollable UIs.
• Fixed a display issue in the Playbook.
• Fixed game crash on non English languages
• Fixed sound for 7.1 audio devices
• Fixed not seeing Blitz servers in the server browser.


Adjustments
• Improved the chat and console font.
• Colorized team chat to match your team's color.
• Increased the time to start a Blitz match in order to give more time for players to get on the server. Game can still by started earlier by toggling ready.
• Improved server lists and crashing associated with multiplayer.
• Reduced the overall number of bots in Crossfire.


Balance Changes
• Decreased the amount of damage a Firebase takes while it's deploying.
• Decreased the recovery time of level 2 and 3 Airstrike.

Monday Night Combat Product Update 1

Fixes
• Fixed sensitivity sliders so that the minimum value is no longer 0.
• Fixed the actions in the death scene to be rebindable.
• Fixed several crashes at the end of Blitz rounds.
• Fixed wrong Challenge Names showing up when browsing for a Blitz game.
• Fixed the Server Browser map filter and set the default to "All".
• Fixed getting 'cash on hand' back after purchasing a custom class.
• Fixed a crash on dedicated servers.
• Fixed Chat and Team Chat


Adjustments
• Refactored the code that displays player counts in the Server Browser.
• Changed some UI text size for higher resolutions.
• Changed the Server Browser tabs to be more legible.
• Changed the Server Browser to default to 'Internet'.


Balance Changes
• Increased the amount of bots spawn for some pros that purchase bots at a bot spawner.
• Reduced the amount of juice Lazer Blazer turrets give to deployed Tanks and taunting Pros.
• Increased clip size of Tank's Rail Gun.