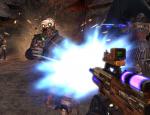 Borderlands, la grosse surprise de 2009 continue d'être mis à jour
Comme prévu,
Borderlands
a été patché par
Gearbox Software
, passant ainsi en v1.41. La mise à jour est désormais disponible sur Steam, Xbox Live et PlayStation Network. La rustine peut également se télécharger chez
AtomicGamer
ou encore
WorthPlaying
, pour la version boite du jeu.
Ce patch augmente de 8 niveaux la limite, ce qui amène à 58 pour les possesseurs du jeu original et 69 pour les possesseurs du dernier DLC (The Secret Armory of General Knoxx). Les ennemis sont désormais adapté à l'augmentation des niveaux, tout comme les objets qu'ils dropent.
La liste complète des changements se trouve dans la suite de la nouvelle.
* Level cap increase of 8 levels for all players.
o Original Borderlands players will now be able to achieve level 58.
o Owners of The Secret Armory of General Knoxx can achieve a record setting increase to a maximum level of 69.
* Enemies now scale to new level caps throughout the whole game as long as play through 2 has been completed.
* Item drops (with the exception of COM Decks) will now scale to new enemy level caps.
* DLC4 Achievement/Trophy glitches that have affected some users will now properly award players for obtaining these achievements.