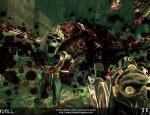 Une version boite, ça vaut bien un peu de retard
Tripwire Interactive
vient d'annoncer un partenariat avec
Teotl Studios
pour l'édition de
The Ball
, son FPS/puzzle à base d'
Unreal Engine 3
qui a remporté la seconde place du concours
Make Something Unreal Contest
.
Tripwire Interactive
, qui semble donc bien parti pour prendre sous son aile tous les talents issus de la scène modding d'UT, a annoncé que le jeu aurait sa version boite ainsi que sa version Steam.
Le jeu proposera 6 heures de jeu en mode solo dans huit énormes niveaux à explorer ainsi que 3 dédiés au mode Survival, deux véhicules et le support de Steamworks pour les succès et les amis (apparemment, que pour la version Steam du jeu).
Par contre, le jeu dont la date de sortie était fixée au 4 août vient de se manger quelques mois de retard avec une sortie désormais arrêtée à l'automne 2010.
L'annonce complète se trouve dans la suite de la nouvelle.
Roswell, GA, July 13, 2010: Tripwire Interactive is delighted to announce that it will be publishing Teotl Studios' first person puzzle-adventure game, The Ball, through Steam and in stores world-wide. The Ball won multiple top prizes in Epic's latest "Make Something Unreal" contest and is now following in the footsteps of Tripwire's own Red Orchestra in making the leap from mod to full commercial release. Providing an experience far beyond what the mod offered the commercial release of the ball is highly enhanced and expanded featuring a full 6 hours of single-player gameplay.

"Tripwire Interactive is a perfect match for us" says Sjoerd De Jong, founder of Teotl Studios. "We are thrilled to work with them and are confident this deal will help us maximize the potential of our game."

"When we first tried The Ball we knew this was exactly the type of game we would like to publish – fun, creative and a blast to play" said John Gibson, President of Tripwire Interactive. "This is all the more exciting for us as the winner of the previous 'Make Something Unreal' contest to have the opportunity to help a winner from the latest MSU contest take their game commercial."

About the game:
The Ball is a first person action-adventure game featuring a full single-player experience built on Epic's Unreal™ Engine 3 technology. As a swashbuckling archaeologist working on the slopes of a dormant volcano somewhere in Mexico, you get stuck in a cavern. It doesn't take long before you realize this is more than just a cave. You reveal ancient ruins that have been hidden from outsiders for centuries and discover a mysterious artifact, a gold and metal shelled Ball. As you progress towards solving the mystery of this amazing place you must unlock the secrets of The Ball and learn to control this ancient artifact. You will also start to encounter not just puzzles and traps, but also various strange creatures – the guardians of this mystery. These creatures also have to be overcome, using only The Ball to defend you. Venturing deeper into the volcano, you reveal some of mankind's greatest secrets…

Key features:

* Six hours of single-player adventure
* Game mechanics that are very simple to pick up, immersing the user in the physics-based gameplay right from the start
* 8 huge levels to explore
* Includes bonus Survival game mode, with 3 additional levels
* Wide range of enemies to overcome, including mummies, an undead gorilla and boss characters
* Unique vehicles – an underground train and the mysterious "Ball Chariot"
* More than 30 secrets hidden away to be discovered, as well as multiple achievements for the player to earn
* Steamworks™ features including achievements and leaderboards

The game will be available on Steam and in stores from Fall 2010. For further information on the game, visit the game website: http://www.theballthegame.com/.

About Tripwire Interactive
Based in Roswell, Georgia, Tripwire Interactive is an entertainment software developer and publisher founded in 2005 by the award winning mod team and winners of the 2004 edition of the "$1,000,000 Make Something Unreal" competition. Released in early 2006, Tripwire Interactive's debut retail title Red Orchestra: Ostfront 41-45 achieved both critical and commercial success garnering several awards including "Multiplayer Game of the Year" and "FPS of the Year" for 2006. Killing Floor, Tripwire's second title, jumped straight to the top of the Steam best-seller list and instantly became one of the top-ten most played FPS games in the world. With some of the most played PC Multiplayer games on the market and over 1,000,000 units sold on PC, Tripwire Interactive have proven that with hard work, determination, and great distribution partners, independent game developers can still make a big splash in the games industry. For more information visit Tripwire Interactive's website at www.tripwireinteractive.com.

About Teotl Studios
Based in Vittinge, Sweden, Teotl Studios is a game development start-up focused on creating quality and immersive single player experiences. The staff is a unique mix of seasoned veterans and talented enthusiasts.

The studio's first title, The Ball, started out as a critically acclaimed mod. It came second in the 2010 edition of Epic Games' "$1,000,000 Make Something Unreal" competition, and also secured ModDB's "Best Singleplayer Mod of 2008″ award. Recently the game was awarded funding by the Nordic Game Program, an initiative from the Scandinavian governments to promote and support regional game development. With the full version of The Ball, Teotl Studios aims to continue this success and present the world with an atmospheric, memorable, and above all fun experience.