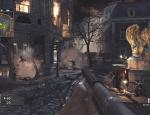 On vous parlait
hier
de la préparation d'un Mappack pour
Call of Duty 5 : World at War
. On en sait un peu plus aujourd'hui sur le contenu de ce dernier ; il devrait apporter 3 cartes multijoueurs et un niveau supplémentaire pour le mode Coop Nazi Zombies ! On sait désormais que le pack arrivera en mars sur PC, Xbox 360 et PS3, mais nous n'avons toujours aucune idée du prix (ni du mode de distribution sur PC).
La description des cartes se trouve dans la suite de la nouvelle.
Nightfire
In "Nightfire," players take to the streets of a war-ravaged Berlin with only the flames of the burning city to expose the enemy.

Station
"Station" offers a bombed out underground train station littered with hidden passageways and destroyed subway cars.

Knee Deep
"Knee Deep" takes place on the island of Peleliu in a once tranquil village turned chaotic Japanese command center.

Verrückt (Zombie Asylum)
The fan favorite 4-player co-op Nazi Zombies Bonus Mode returns with "Verrückt," a terrifying Zombie asylum featuring more weapons, perks via the addition of Perks-a-Cola machines, electroshock defenses and the endless zombie horde.