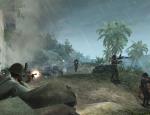 Treyarch
, la boîte la plus longue du monde pour sortir des
patchs
vient d'annoncer avoir dépassé la cinquième phase de leur processus de certification pour le patch 1.2 de la version PC de
Call of Duty 5 : World at War
, ce qui signifie qu'il est prêt à sortir. En plus des traditionnels bugs corrigés, cette rustine apportera une nouvelle carte multi, une version diurne de Makin.
La fonction d'enregistrement, ardemment demandée par les joueurs ne fait pas parti de la fête, mais elle sera disponible dans le
patch
1.3, dont le développement à déjà commencé.
La liste complète des changements (anglais) se trouve dans la suite de la nouvelle.
Items addressed in 1.2:
# Free Multiplayer Map! The tide is out and the sun is high – this daytime version of Makin sheds new light on the battle!
# Fixed exploits that allowed for power ranking servers.
# Fixed router related server authentication errors.
# Fixed HTTP Redirect functionality for downloading mods
# Fixed sound device crashes stemming from Emulated Sound Devices
# Fixed exploit which allowed players to color their name tag.
# Hits now register properly while targeted player is leaning.
# Enabled /cg_drawfps in multiplayer games.
# Fixed command-line +connect functionality
# /cg_fov no longer resets to the default value in between matches.
# Dedicated servers automatically reconnect to the Master Server in case the Master Server resets.
# "Accept Game Invite" is bound to its default key, F10.
# Implemented fix for attempting to join password protected servers from the server browser.
# Fine tuned Bolt-Action Rifles for balance.
# Screenshots no longer overwrite each other.
# Fixed various multiplayer map related issues and exploits.