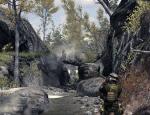 Aspyr
vient officiellement d'annoncer que la version Mac de
Call of Duty 4 : Modern Warfare
qu'ils développent est terminée et vient d'être envoyée à la production de masse. Enfin, pas trop non plus, la portion de joueurs évoluant sur Mac étant sensiblement plus faible que celle qui squattent les PC.
Les adorateurs de Steve Jobs pourront donc, et ce dès le 15 septembre prochain, essayer ce portage, pour 54.99 dollars. On ne sait pas si les taux de change seront respectés. Surement pas, de toute manière.
Le communiqué de presse se trouve dans la suite de la nouvelle.
AUSTIN, TX September 5, 2008 Aspyr Media, Inc. today announced Call of Duty® 4: Modern Warfare for the Macintosh will begin shipping September 15th to retail stores throughout North America. Developed by Infinity Ward and licensed by Activision, Call of Duty 4: Modern Warfare was developed for Mac by Aspyr Studios, Aspyr¹s internal development team.

Featuring a tense storyline, filled with plot twists, the title thrusts players into battle like never before. With amazing special effects, including rim-lighting, depth of field, texture streaming and character self-shadowing, players are enlisted into one of the most photo-realistic gaming experiences imaginable.

The community-oriented Call of Duty 4 multiplayer gameplay features a robust leveling system, variety of unlockable perks, hot-join and matchmaking, as well as create a class and party capabilities to ensure that players of all skill levels can join in the fun. Additionally over 100 challenges and a host of new game environments and modes deliver unlimited possibilities. Infinity Ward has also included Kill-Cam, a fan favorite feature that they created in Call of Duty 2, which allows for spectator instant replays.

Call of Duty® 4: Modern Warfare is available for preorder now through Aspyr's website for only $54.99, http://www.aspyr.com/product/info/88. For more information, fans can also visit the official Website, http://www.callofduty.com/.

Call of Duty 4: Modern Warfare is rated ³M² (Mature) by the ESRB for Intense Violence, Strong Language and Blood and Gore.